Hybrid Stripers, White Bass (Sand Bass) Crappie and Trophy Blue Cats
Dallas Guide Fishing is the best fishing guide service on Richland Chambers where we target hybrid stripers, white bass, crappie, and trophy catfish. We can fish either the morning or evening, (we also offer full day trips) whatever is the most convenient for you. Let's go catch some fish and have a great time on the water.
Richland Chambers is truly an amazing fishery. It's full of fish and they are all hungry and wanting to put up a great fight. A little information about Richland Chambers. It was created in 1986 and is the third largest lake in Texas. I spend almost every day on the water so I know this lake. Let's go catch some fish!
 Hybrid Stripers & White Bass
Winter months can be great fishing! We will often use a slab with a fly tied above it and catch them two at a time. One Hybrid Striper can wear you out, TWO of them at the SAME time will make your arms hurt – and man is it FUN! Also, we often get into a serious Hybrid topwater bite in November. Nothing beats seeing a huge explosion as a BIG Hybrid Striper eats your topwater.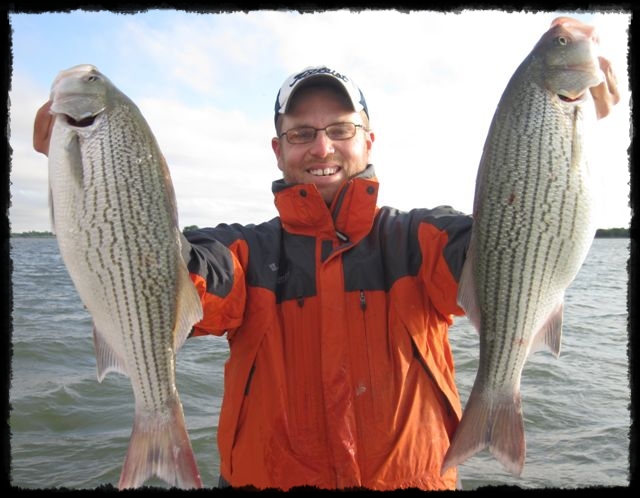 Spring months continue to be great fishing. The fish are HUNGRY! Winter is over and they are voraciously eating. The Hybrid Stripers and White Bass are busting the top of the water all over the lake. We typically start the day off throwing sassy shads, rattle traps and/or topwaters and we always have a blast! As the day goes on move off to deeper water and throw slabs and that's when some of the bigger Hybrid Stripers are caught.
Summer months produce some excellent fishing as well. The fish start the summer off busting the top of the water all over the lake and can be caught with sassy shads, topwaters, rattle traps and slabs. As the summer goes on the fish can be become very predictable and can be found on humps and points.
Fall has to be my favorite time of year to to fish. The fishing is excellent and they are getting fat for winter which means they are eating everything they see. They can be found on top, down deep – It's GOOD!
Trophy Blue Cats and Great Eating size Catfish
Winter is home of the Trophy Blue Catfish. If you want to catch a GIANT Blue Catfish book a trip this Winter. The season starts late December and goes through most of February and holy cow do these guys wear you OUT! Forty, fifty even SIXTY pound Blue Catfish can and are caught every winter. They truly are a blast to catch and make a great lasting memory.
Spring is the time of the year we can go out and really sack up a bunch of great eating size Blue Catfish. Often we can and will go after these guys after we've caught our limits of white bass but if you want to get a freezer full of these guys, that's cool too! We can target the eating size Blue Catfish.
Crappie
Spring can be great and I mean GREAT crappie fishing. We all know these guys are delicious and the fishing is great this time of the year. We can either exclusively target these guys or we can go pick up some after we've caught our limits of white bass.
Fall is still my favorite season to fish and the Crappie are biting very well! Again, we can either target these guys exclusively or we can catch some after we've limited on the White Bass and Hybrids.